Sorry, we couldn't find any posts. Please try a different search.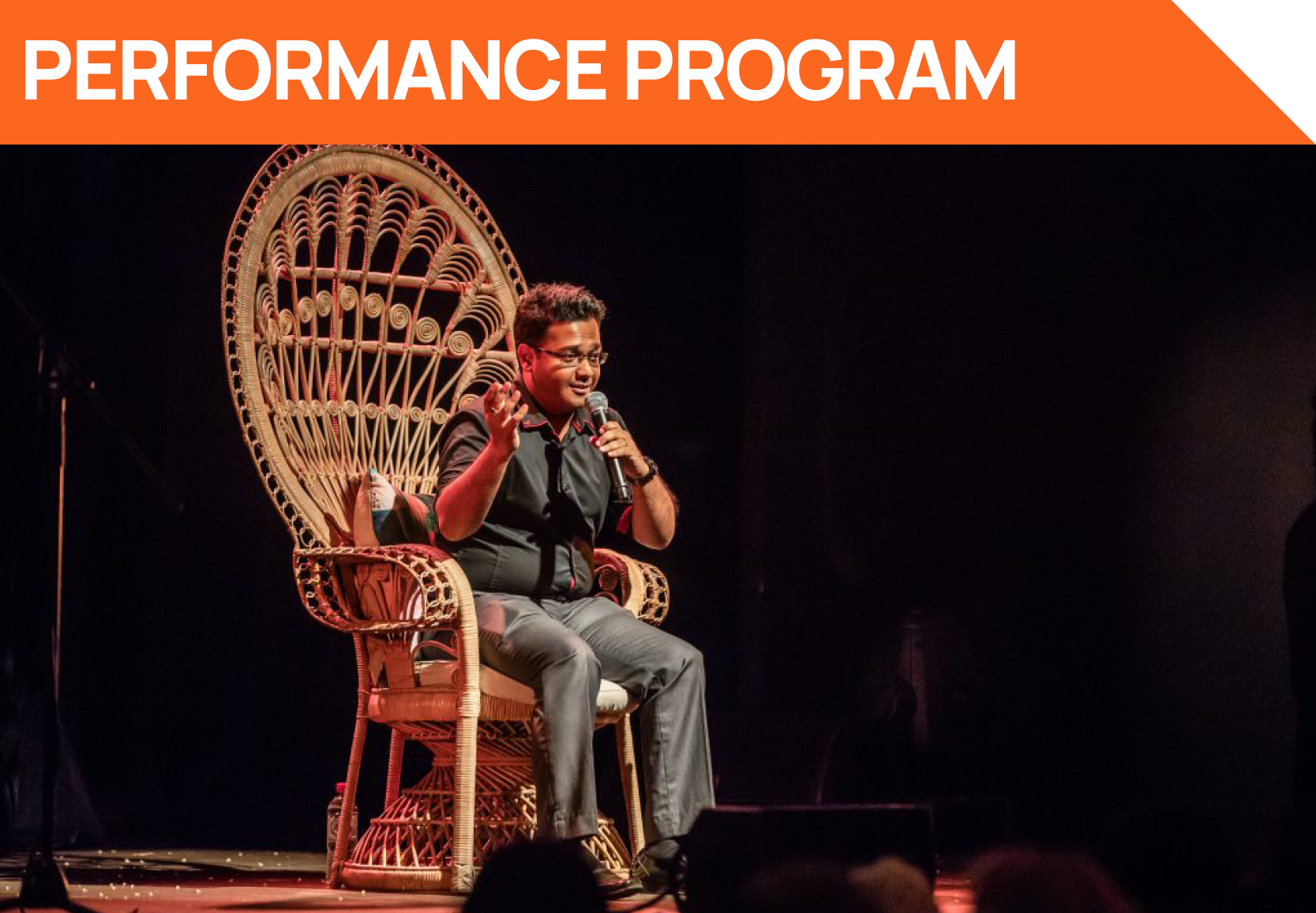 We have some incredible SPUN shows planned for 2022, watch this space!
Our Friends at StoryProjects have something to say…
After seven years, 20 events and more than 130 stories, Darwin's much-loved, home grown storytelling show, SPUN, has moved to Brown's Mart.
Founded in 2014 by Darwin-based StoryProjects, the first SPUN event, at Eva's Café, sold out in 15 minutes.
"People just love local stories. They can't get enough of them," says Johanna Bell, the Director of StoryProjects.
"At the first SPUN, we were expecting 50 people – tops! So when more than 200 people rocked up, we were pretty blown away. People were spilling out the doors and we had to set up speakers on the verandah so that everyone could listen," says Bell.
Since then, SPUN has traversed the Top End with shows in Palmerston, Katherine, Pine Creek and Darwin. Presented in paddocks, theatres, backyards, cafes, libraries and art galleries, the project has reshaped who gets to tell stories in the NT.
"People are tired of the Crocodile Dundee narrative. They want to hear real stories told by real people. That's one of the magical things about SPUN. We don't work with performers or professional storytellers. It's just ordinary folk who have extraordinary stories," says Bell.
One of those storytellers is Larrakia meteorologist, Jackson Browne who first shared his story at the Darwin Festival SPUN in 2016.
"At first, I was apprehensive about participating in SPUN and wondered whether people would even enjoy listening to my story. But on the night, the audience loved it and I was surprised by how much it struck a chord with people," says Browne.
For Jackson, and many other SPUN storytellers, the experience of sharing a personal story on stage, created a chain reaction that lead to many more storytelling opportunities.
"SPUN was the catalyst that enabled me to fulfil my dream to go to Antarctica and subsequently move into my current role, as a Senior Communications Meteorologist at the Bureau. I'm extremely grateful to the Director, Yo Bell, and the SPUN team, for the opportunity," says Browne.
Despite a record for selling out shows and an award-winning podcast, SPUN Stories, the last few years have been tough for independent producers across Australia, and Bell found herself in a difficult situation.
"COVID has hurt the arts industry and made it harder to take risks especially for independent producers. This SPUN was going to be the last one. But when I started telling people, they were so upset that I realised SPUN can't finish yet. It needs a new home – somewhere stories can thrive – and what better place than our very own Brown's Mart!" says Bell.
Brown's Mart CEO, Sophia Hall, is thrilled about this development.
"SPUN has played an incredible role in the fabric of Darwin life, sharing the stories of real people and challenging the ways we as Territorians are seen. This has been an important, inspiring and deeply loved project and my admiration for Johanna and the full team who have brought us so many wonderful SPUN shows is huge. SPUN can't finish yet. Committed as we are to our local community, we at Brown's Mart are excited and deeply honoured to be taking the torch for the next part of the SPUN journey, sharing more stories both at Brown's Mart and beyond."
This move is a victory for everyone who loves local stories. Keep an ear out for more SPUN adventures at Brown's Mart!
Find out more about SPUN here
Sorry, we couldn't find any posts. Please try a different search.
Sorry, we couldn't find any posts. Please try a different search.
COMING UP
Check Out Our Upcoming Shows
OUR MISSION
To be a dynamic and responsive theatre centre which offers professional support for the development and presentation of high quality theatre initiated by theatre artists living and working in the top-end of the NT.
Please donate to help us continue to deliver an engaging and varied theatre program.
Brilliant heritage listed building, hosting a range of things from love music to theatre. Bar is small but food quality - offering Australian owned and made beer and Australian wines and ciders. Killer staff too!
Brilliant set up, sound quality is super. Had a great night, will be coming back.
Darwin is the most amazing place on the planet only because of Brown's Mart (and the sunsets).
Brown's Mart Arts Ltd
(T/as Brown's Mart)
ABN: 67 141 763 895
Address
12 Smith Street Darwin City
GPO Box 3451, Darwin NT 0801
admin@brownsmart.com.au