Interview With Kyle Walmsley
The Feather In The Web is part of Browns Mart Theatres Play Readings Series. Browns Mart caught up with Actor and Director Kyle Walmsley about the upcoming play reading this Thursday, 8th October.
For you as a performer and writer, what's the best part of being involved in play readings?
Readings are a great little laboratory to work on a text without the huge looming pressure of a fully staged production. It's a neat way to test audience response to work, and also in Darwin it brings works to the theatre that are trending elsewhere, but maybe otherwise would not be showcased to a Top End audience. It's a chance to hear stories from a little further than our own backyard. 
 
What are you looking forward to the most about Thursday's play reading?
 
I love this play. And I don't say that often about plays, as theatre can be really long and boring. But this play is great. I feel like it's authentically the millennial voice and truly contemporary in both form and content. It scratches at the crusty facade of adult life with the disgust of someone who remembers what it was like to be a teenager and somewhat carefree. I really like the improv scene in the play for all too many close to home reasons. 
Tell us about this work by Nick Coyle, what resonates about the work with you? Has anything unexpected emerged from reading through it recently?
Nick Coyle is already an awarded and celebrated playwright and artist. As he is also a performer, I think the dialogue sizzles off the page in the most speakable and enjoyable way. Which is why I think it works sensationally as a reading. If you haven't seen his mini-series that featured on ABC and now available to watch online, Sarah's Channel – get on it. It's Claudio O'Doherty as a youtuber broadcasting from a post-apocalyptic bunker that's been invaded by zombie-esque mutant creatures. It's full of lols and a really good insight into his comedy and writing.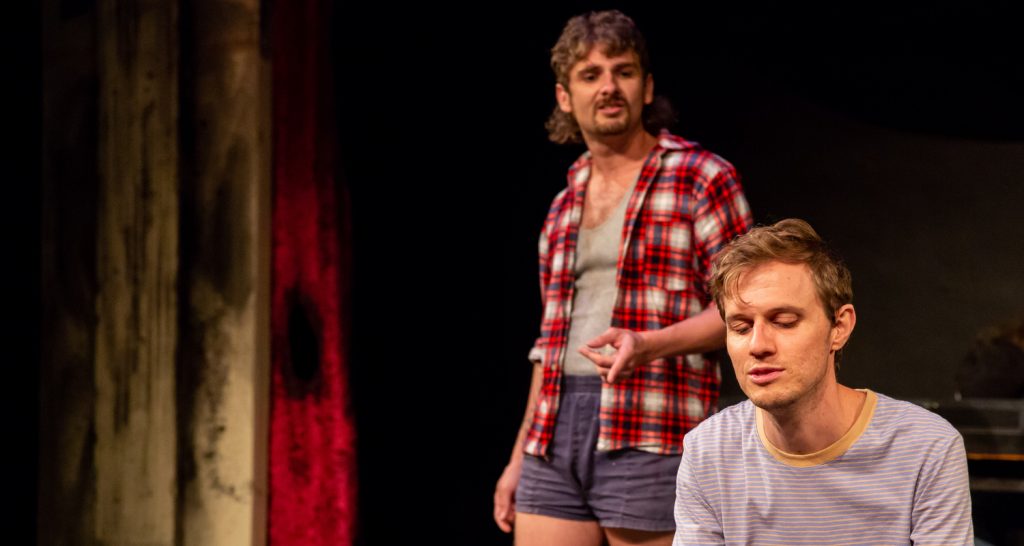 The synopsis I read reminds me of Daisy Buchanan's character in The Great Gatsby; in that she's a destructive, careless person unconcerned with causing harm, or furthering that chaos in love – are there any parts of the play that are hopeful? Or is it more an allegorical warning?
 
It is very picaresque and I love that the main character Kimberly is likeable despite a host of grotesque traits and having a swath of anti-heroic qualities. I think it's because they're recognisable that we tolerate her choices – maybe the hidden urge to enact the very things she does. I think of the main characters in Broad City, the female leads in Arrested Development and Pen15 – all 'badly behaved' women with hilarious results. It's definitely ultimately hopeful though. I think we're all suckers for love ultimately and vulnerability is probably the answer to all our problems in the world. The play speaks to that. 
What's coming up next for you in the coming weeks or months? Please plug away!
Thank you so much for asking. I'd like to be quoted as saying "Build Up is the new Dry in 2020" so, plenty of action still happening around town, and this year more than ever I think you can continue to gobble and swallow live performance right through to the wet.
Lower the Bar – Darwin Entertainment Centre, October 24, 7.30pm.
If you lol at The Feather In the Web, you'll definitely lol @ Lower the Bar. Original Darwin Sketch Comedy by Sarah Reuben and myself –  featuring characters plucked directly from the Monnies dance floor, Coolalinga Central and the Darwin Tinder pool. Book tickets now! 
Schnitz N Giggles – Darwin Railway Club, October 10th
Stand up comedy can be a bit hit and miss for me, but Sarah Reuben and I are performing at this next one, and we're a surefire hit. If one of us is a bit shit, you can just look at the other one. 
Tracks Deckchair Cinema Fundraiser, 18th October
This year Tracks Dance commissioned new dance works for film that are being premiered at Deckchair Cinema (followed by the latest Miss Fisher film). These dance works all took place inside homes and places that are significant to the dancer-choreographers. I am one of these dancer-choreographers. 
The Feather In The Web is part of Browns Mart Theatres Play Readings Series. 
The Feather In The Web by Nick Coyle features:
Director: Kyle Walmsley
Actor: Nicky Fearn
Actor: Ciella Williams
Actor: Sarah Reuben 
Actor: Kurt Ramjan 
VENUE: Brown's Mart Theatre
DATES: Thursday 8th October, 2020
TIME: 7.30pm(Note: Performances will commence on time. Please arrive at least 15 min before the start of the show to ensure entry)
TICKETS: All $15
BOOK ONLINE: brownsmart.com.au
Brown's Mart Arts Ltd
(T/as Brown's Mart)
ABN: 67 141 763 895
Address
12 Smith Street Darwin City
GPO Box 3451, Darwin NT 0801
admin@brownsmart.com.au